[GREEN] Protecting & conserving biodiversity in villages through environmental education & justice.
2021-07-27 10:33

REPORT IN BRIEF
The GREEN – General Movement for Rural Education and Environment a native based, non-for profit organization working for the welfare of the environmental protection, biodiversity conservation in Theni District (TN), India through awareness education, training, community organization development programs etc., It has been implemented a special initiative on Environmental protection and Biodiversity conservation in special focusing with result oriented strategies and community involved sustainable practices.
This specially designed project initiative namely Protecting & conserving biodiversity in villages through environmental education & justice. was supported by "Korea – SHE (Safety Health & Environment) Project" for the period of 3 (three) months consequently from May 2021 and was concluded by the month of July 2021 in to a phase wise implementation schedule as mentioned in the project proposal. And the implementing agency has successfully completed the 1st Phase (Interim) project activities for the period starts from the date of 01.05.2021 to 25.07.2021 project as reporting period.
The project activities made considerable impacts and delivered the desired outcome as said in the proposal over the reporting period and made a positive changes and remarkable achievements among the targeted project area. The GREEN has put enormous efforts and close working with the project activities in every phased wise implementation and the Korea – SHE Project has been supported extensively to make the productive results of the project focused.
By this time our GREEN has applied the need based project for addressing the Sustainable Agriculture in the Rain fed areas of the Western Ghats of India, Theni District, Tamilnadu through local efforts.
The advent of Green Revolution has thrown out the indigenous and traditional farming methods, and indigenous seeds that are suitable to this very climate are in extinct. The chemical intensive farming resulted in degradation of lands of small & marginal farmers which forced farmers to go on adding more chemical inputs and get low outputs, There is a strong possibility that revival and promotion of these cropping activities will not only address land degradation but also problems related to food and nutrition security in large tracts of rain-fed India, hence this project was proposed.
GOAL of the Project & Program Objectives
The goal of the project is to enable individuals to explore environmental issues, engage them in problem solving and take action to improve the environment and in the process provide every workers with right to healthy and safe working environment without having to choose between unemployment and an unsafe source of livelihood. The main objectives of project and was intended to support to provide
1) To organize workshops, seminars, rallies, awareness camps and public meetings to create awareness on biodiversity conservation among children, women and men living in the villages;
2) To involve key stakeholders in evolving a community nursery at cluster level for the preparation of seed balls of native trees, including foot-bearing trees, to promote and conserve flora and eventually fauna in the villages;
3) To engage pupils from schools and students from colleges and small and marginal farmers in biodiversity protection and conservation in the village; and,
4) To promote sustainability through responsible and ethical use of renewable resources and ensuring the freedom of life of all living organisms.
This project is designed to create awareness and sensitivity, knowledge and understanding, skills and change of attitudes and informed choices and participatory decisions by children, women and men in rural areas to identify issues and address environmental challenges for ensuring healthy environments for all communities. This project is also designed to assert the necessity of right to freedom and livelihood of all living organisms and responsible and ethical use of land and renewable resources as citizens and consumers with a prime focus on sustainability.
Following are the details of the Activities that have been COMPLETED by the GREEN under this Korea – SHE (Safety Health & Environment) Project effort for the period started from 01.05.2021 to 25.07.2021 the detailed description of completed activities are as follows:
 Selection Process & Selection Criteria:
Before starting the project activity, our GREEN planned to make a Community Consultation meeting in order to get involve the local community participation on the project activities of GREEN, and has initiated a process of community consultation and site selection in 60 target villages by the 1st week of May 2021.
Under this project, our GREEN have interviewed about the local women SHG members, youths and other stakeholders of the project site out of 60 active members of the Women SHGs already organized by our organization were involved, our Secretary Mr. P.S. Bose along with Resource Team members conducted a details consultation meeting. Indeed we faced problem of selecting women as many women farmers wanted to involve in organic farming. The team members explained the goals and objectives of the project, the context, contents, proposed activities, time plan, and the expected results. The program was interrupted with input sessions, plenary sessions, group discussions, report presentations, and a concluding session at the end.
 Base line survey
As a preliminary part of the KOREA – SHE project, that our GREEN initiate a Base Line Data (BLD) collection / field survey in this project area. About (1) survey process with 10 participations have been conducted. For this survey project we have designed a special questionnaire and formats for collecting the field level data. Generally the data comprised the information about the ecological assessment, soil fertility, groundwater potential, indigenous trees, and humidity in the project area. The survey has been conducted through standardized method and random verification of data. The trained youth volunteers, women SHG members, leaders of Community-Based Organizations (CBOs), and children were provided one day orientation training on how to collect the information (Primary and Secondary data collection) and data interpretation.
Over 25 more volunteers were involved in the survey process and collection of information at the field from 18.05.2021 to 04.06.2021. The collected information has been stored, computerized and interpretation of data, analysis and final report of the BLD survey project developed.
 Transect walk
As a part of this project, we have undertaken a transect walk across every village together with the local people to explore and identify vacant agricultural lands and forest, dry land areas and unused lands in and around the villages, including the campuses of government institutions, schools, colleges and other institutions. About 60 programs with over and about 600 more participants were involved in the Transect Walk across the 60 more villages in the project site by 12.06.2021 to spread the importance of the project activities and to call for public in action.
 Training programs
GREEN had organized an exclusive interactive training programs for children, youth, women, schoolteachers, women, small and marginal farmers, volunteers and leaders of CBOs to train them on to render active participation of the project activities and field level implementation. About 20 Training programs with 250 participants were conducted. Resource persons from Forest Department, Horticulture Department, Agriculture Department, NGOs and Environmentalists had participated the training process. The training program was conducted by 5th July 2021 to 25th July 2021 (05.07.2021 to 25.07.2021) in to batch wise and village wise training sessions. The intensive Training focused on
a. Environmental Protection & Biodiversity Conservation and its importance
b. Importance of Tree plantation
c. Preparation of seed balls,
d. Environment and ecology, various Ecosystems,
e. Ecological rights and Livelihoods
f. Protection of native species, fruit-bearing trees,
g. RWH - rainwater harvesting, techniques of growing trees with minimum water, etc. As in the orientation program, we adopted the same training methodology to train the participants. This training program has to equip school, college students, CBO leaders and volunteers with skills to sustain the benefits of project for coming years.
 Seed balls production
As the salient activity of project is to produce Seed Balls, this activity will be commenced by the upcoming month (August to October 2021) of 2nd phase of project. But our organization has started the works for mobilizing women SHG, collecting raw materials, seeds and others for SEED BALL production by this July 2021.
As this is the 1st phase – INTERIM of the project that we have been successfully completed the above project activities as per the schedule mentioned in the project period and the remaining of activities will be completed by the end of OCTOBER 2021
Event Photos of the Project Activities - Completed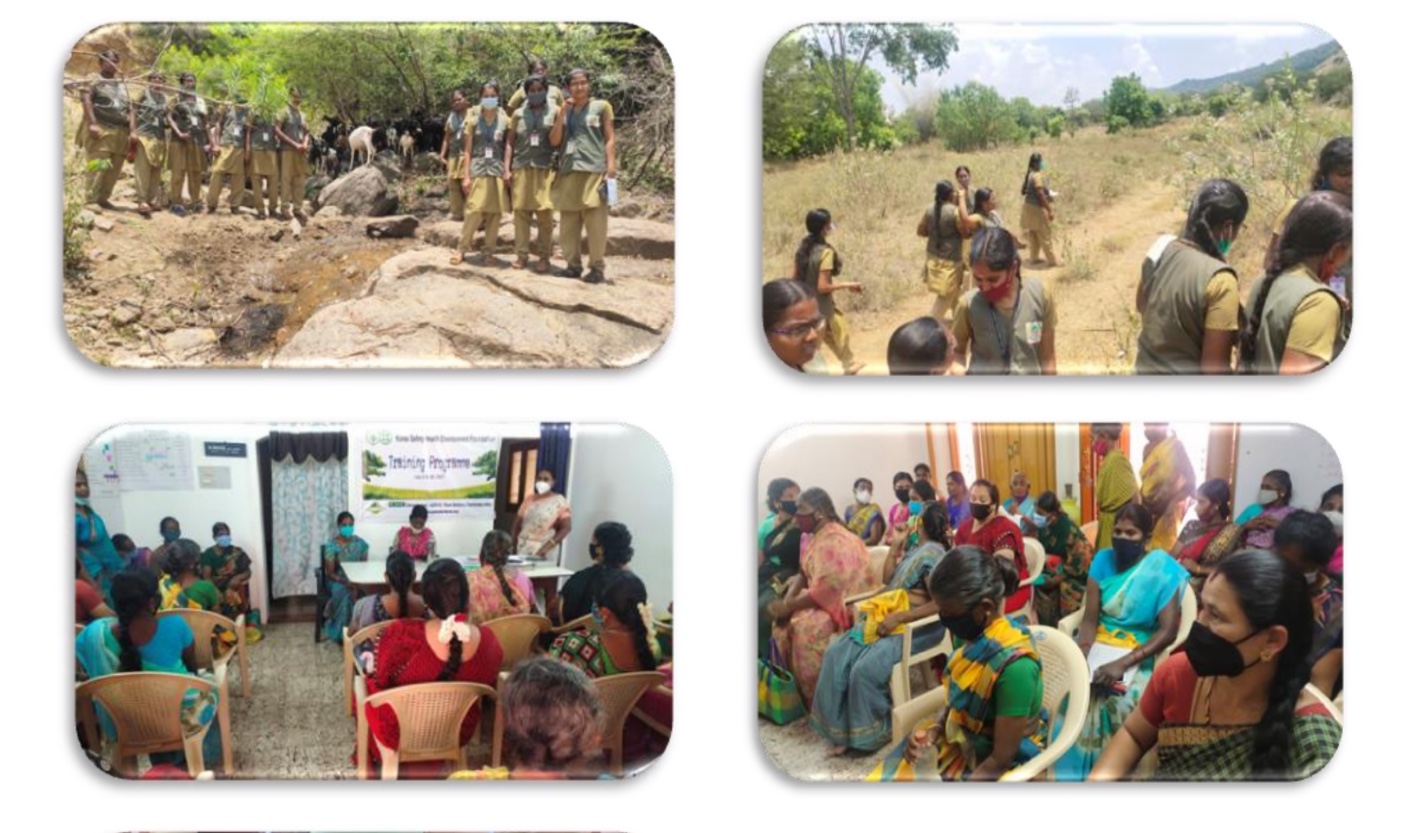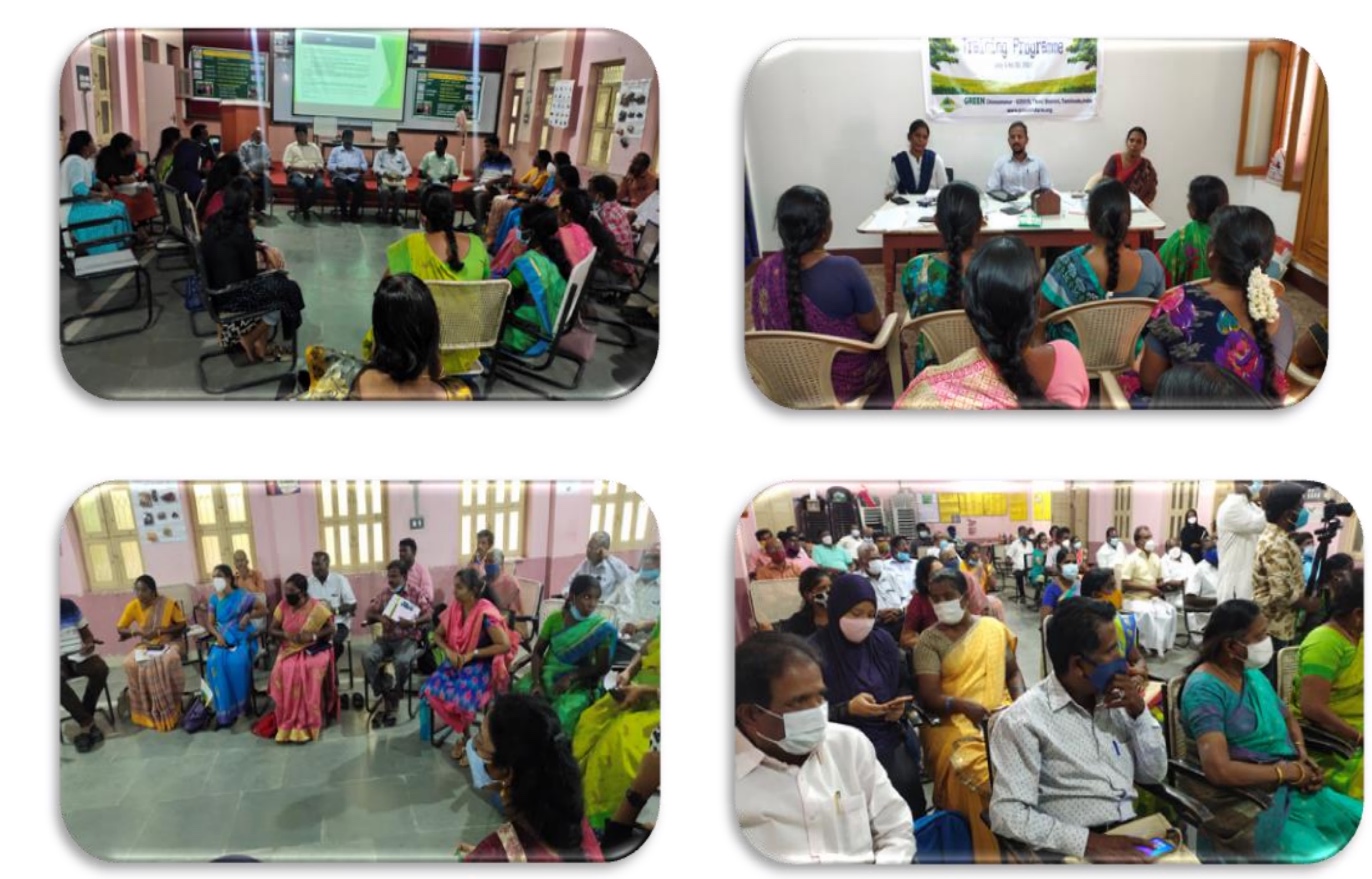 Following activities will be Completed by upcoming period – 2nd Phase of project by August 2021 to October 2021 as the 2nd and Final phase of the project
1. Preparation and sowing of Seed Balls.
2. Awareness Camps (Workshops, Awareness camps and Public meetings).
3. Formation of Environment Protection Committees EPCs.
4. Awareness rallies.
5. Publication of a manual.
The project implementing agency would take necessary efforts to complete the remaining project activities within the stipulated period.
이 게시글이 좋으셨다면 like!를 눌러주세요.